What is leasing of machinery?
Leasing of machinery is called a contractual civil law relationship, whereby the financing party – the lessor – transfers to the other party the right to use a particular thing for a predetermined period in return for leasing fees paid in installments.
Due to the fact that leasing has long been perceived as a modern and economically friendly way of financing goods, Polpack has established cooperation with Millennium Bank, with which we jointly prepare offers for leasing packaging machines for our customers. We started this form of cooperation in 2020, and we can already see that it was a very good business decision, as not only new customers benefit from it, but also those who have been cooperating with us for years and have repeatedly bought e.g. automatic packaging machines, pallet wrapping lines or flow-pack machines from us.
Of course, entrepreneurs will benefit the most from signing a lease agreement. Why? Check out the benefits of leasing below!
Advantages of leasing of packaging machines
As the most important advantage of this form of financing machines, most entrepreneurs mention tax benefits, because signing this type of agreement allows to reduce the tax base. Specifically, if you choose the most popular operating lease at the moment, you will be able to deduct the interest part of the instalment and any initial fee incurred for this form of financing from your tax base. As an additional benefit, VAT can be added to the monthly instalment. In the case of operating lease, the obligation of depreciation of the machine remains with the lessor.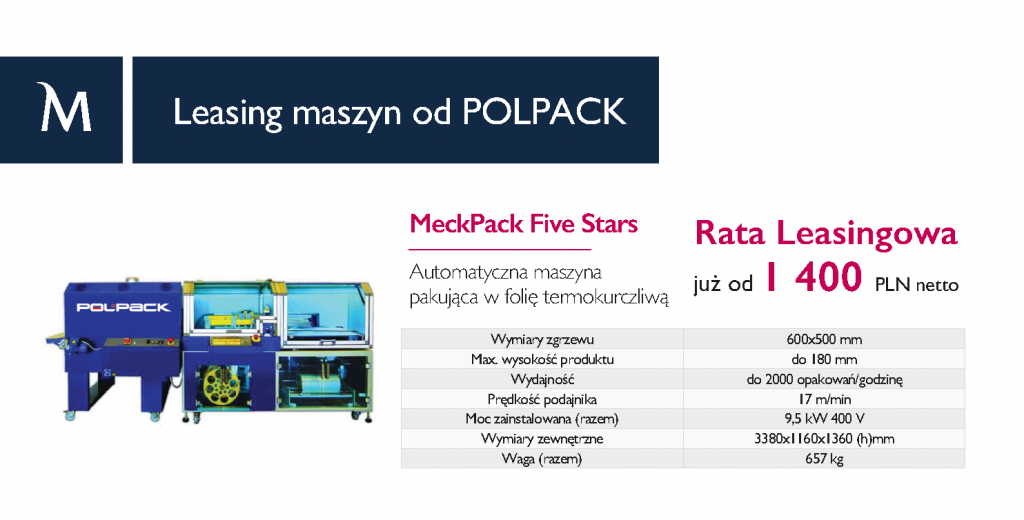 Nowadays, new companies that have been on the market for only a few months are not very reliable clients for banks. Signing a lease agreement when purchasing a machine will therefore prove to be a good option for those who have received a negative decision due to lack of creditworthiness.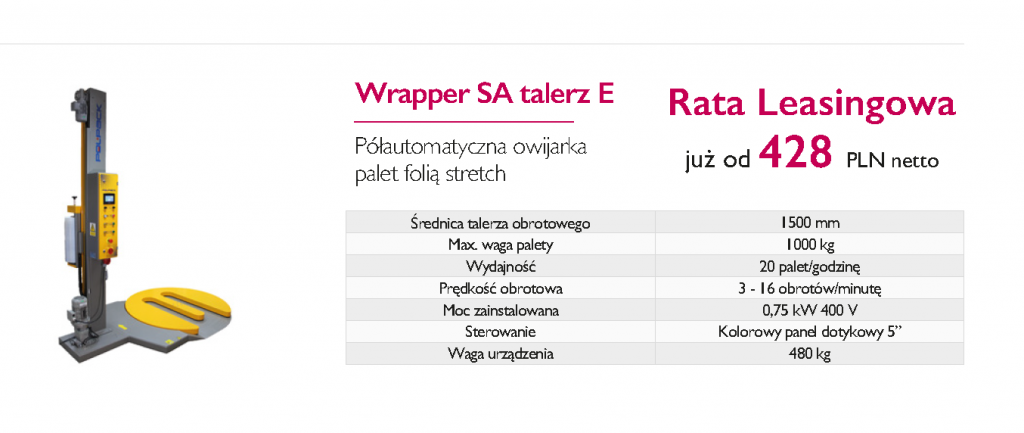 How to save money when buying packaging machines?
It also saves time, which for many entrepreneurs is a determinant when choosing subcontractors. In order to apply for leasing, it will be necessary to provide only a few basic documents: two identity documents, a certificate of REGON and NIP numbers and an entry in the register of economic activity. In the case of companies, the articles of association and an extract from the National Court Register will also be required.
Polpack in cooperation with Millenium Bank will take care of the whole leasing process. Taking into account the customer's expectations, we can offer different lengths of repayment period. We pay attention to the declared own contribution, the amount of instalments and the amount of buyout. Our consultant is able to prepare several variants, which will allow you to choose the most suitable, tailored to the needs of each enterprise. We work online, which helps to prepare the offer freely during the COVID-19 pandemic. In case the client would like to appear in our office in person, we arrange the details of the meeting, maintaining proper sanitary condition.
Comprehensive offer of Polpack Sp. z o.o.
Our offer includes sealing hood packers, semi-automatic sealers with a tunnel, automatic packaging machines for polyolefin or polyethylene films, and shrink tunnels. We are a manufacturer of stretch and shrink film wrapping machines. This allows us to provide comprehensive packaging solutions.

Summary of why it is worth your interest to lease packaging machinery:
By choosing leasing, a machine can be charged to the company's costs twice as fast as when buying it for cash.
First payment from 0 to 45%
Payment period from 3 to 6 years
There is a possibility of setting different installment amounts, depending on the needs
We need funds only for the own contribution to the lease, the rest is financed by Millennium Bank. In the meantime, the machine has time to earn the leasing installment by its work on production improvement.
Leasing does not lower our credit worthiness.
This is fast financing, the paperwork can be done in literally a few days.
Requires little documentation compared to a loan.
This way we reduce the amount of taxes we pay.
If you have any questions, please contact our representative:
Marta Suszyńska
tel. 606 738 521