Pallet wrappers are a valuable addition to any logistic process. They will prove useful in both smaller companies sending few pallets per week and in specialist large logistic centers. Pallet wrapping machines help to save time, money, labor costs and increase quality of load protection on a pallet.
If you are looking for a stretch wrap machine, you may be wondering how much such machines cost and what the return on investment will be. In the following article, I'll try to give you a little insight into pallet wrapper pricing and the potential savings you can expect from purchasing a pallet wrapper.
Prices for pallet wrappers
We can assume that semi-automatic disc pallet wrappers may cost, depending on the model and additional options, from 18,000* to 60,000 PLN, whereas automatic pallet wrapping lines are priced individually depending on the complexity of the project.
However, it is important to remember that the initial cost of purchasing a pallet film machine is offset by the savings in film, the improvement in manual labor over the life of the machine, and the minimization of the risk of inadequate load securing and possible complaints/returns.
Semi-automatic rotary table pallet wrappers and pallet wrapping robots can be equipped with a stretch film pre-stretch feature that reduces stretch film waste and labor. What is important, similar savings can be achieved on stretch wrappers with friction stretch film stretching using properly selected nano stretch films. Our specialists can assist you in cost optimization and selection of proper technique for securing a load with stretch film.
Fully automatic wrapping machines will automatically start the cycle of wrapping a pallet, solidly wrap it, precisely stretching and stretching stretch film, and after wrapping a pallet, the machine will automatically cut the film and "stick" it to the pallet. Automatic pallet wrapping lines improve logistics and production processes even more.
*not including the so-called "Chinese" products
Types and prices of pallet wrapping machines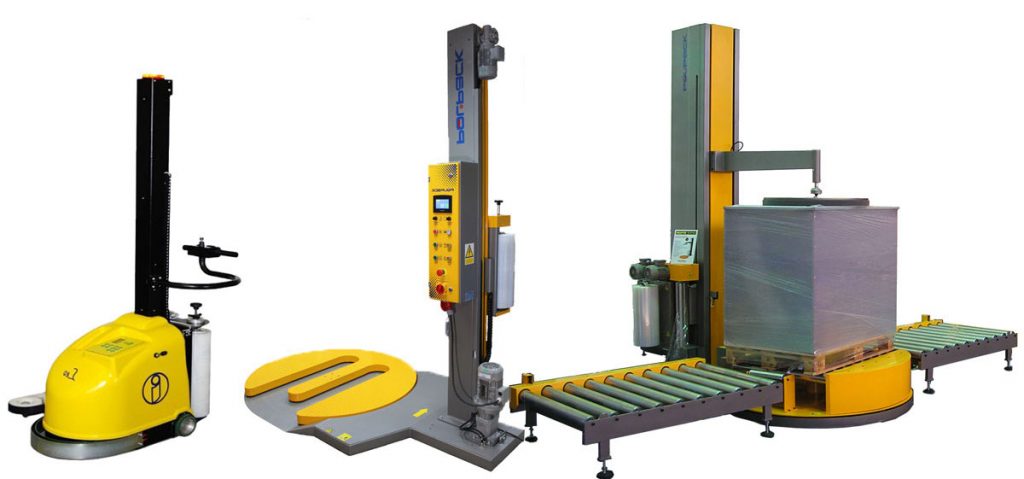 There are many models and versions of pallet wrappers, and each machine offers different features and benefits.
Price range: 18.000-40.000 PLN
Semi-automatic wrappers – Semi-automatic wrappers with rotary table and friction stretch film tensioning offer high versatility, simple operation and reliability.  Depending on selected model and equipment they provide:
friction stretch film tension with electronic adjustment
various rotary discs: diameter 1500mm, 2000mm or with cut-out for pallet truck (disc type E)
able to wrap up to 480 pallets per day
storage of different machine programs
photocell for pallet height reading
minimal space required – e.g. Wrapper SE or mobile wrappers
smooth regulation of disc rotation and film carriage drive (precise pallet wrapping and application of the right amount of film)
pneumatic pallet holding system (stabilizing holding)
possibility to adapt the machine to wrap doors or windows
on request the wrappers can be made of stainless steel and adapted to adverse working conditions
Mobile pallet wrappers are also available in this price range.
Price range: 40.000-60.000 PLN
Advanced wrappers  – An example of advanced stretch wrapping machines for pallets can be the Wrapper Evolution. These types of pallet wrappers are dedicated to large logistics centers or large manufacturing facilities that require hundreds of loads to be wrapped per day while reducing film costs and optimizing operator labor.
Depending on the model selected, advanced semi-automatic pallet wrappers provide the following benefits:
Wszystkie zalety owijarek półautomatycznych (z punktu wcześniejszego)
All advantages of semi-automatic wrappers (from the previous point)
Possibility to automatically cut the film after wrapping the pallet
Optional rooping of the stretch film
Advanced two-motor stretch film stretching systems
Electric pallet pressure system – allows stabilization of both very low and very high loads
Price range: 100.00 –
Automatyczne owijarki — Automatyczne linie do owijania ładunków na paletach przy użyciu Automatic wrappers – automatic lines for wrapping loads on pallets with stretch foil or net. They will prove useful in companies expecting a high level of automation of logistic or production processes. Wrapper VO automatic wrappers can work with palletising stations
Automatic pallet wrapping lines have all the advantages of semi-automatic wrappers and additionally:
automatic pallet infeed and outfeed
automatic start of wrapping cycle (application of stretch film)
possibility of pallet labelling
fully automatic pallet wrapping process
possibility of exchanging information with the client's system (e.g. machine downtime, number of wrapped pallets, etc.)
We encourage you to check our pallet wrapping machine leasing offer! Wrapping machine financing process can be fast and pleasant – our specialists will take care of all formalities related to financing wrapping machine.
Savings from pallet wrapping machine
Knowing the estimated prices of pallet wrappers, we can look a little closer at the potential savings:
we reduce stretch film consumption. At the stage of machine installation, our specialists will help you choose
we minimize the costs of possible complaints or damage to products during transport/storage
optimization of labor costs
Daily number of pallets wrapped. Estimated annual savings from machine pallet wrapping compared to manual wrapping*:
10 pallets per day gives about 1650 PLN of savings
20 pallets means 3300 PLN of savings
40 pallets gives us about 4950 PLN of saving
*Assuming that on average, manual wrapping takes 4 minutes and machine wrapping takes up to 2 minutes. Calculated for the average salary of warehouse workers in 2021
New or used pallet wrapper
Some companies consider purchasing a used pallet wrapper if the cost of purchasing a new wrapper exceeds the budget previously established. While the initial price of a used pallet film wrapper may seem attractive and be slightly less, several factors can cause the total cost of implementing a used packaging machine to exceed the price of a new wrapper:
Spare parts for wrappers – Depending on the model and manufacturer of the pallet wrapper, the availability and speed of obtaining spare parts can be challenging
Warranty. It can be just a start-up, for 2-3 months or a used machine can even be sold without any warranty. New wrappers (e.g. Wrapper) have full 24 months warranty
Manufacturer support – Manufacturer service support can be severely limited. There may also be problems with proper documentation
Wrapper repair – Bringing a qualified service technician to your business can take time and carry additional costs. Another issue is the price of replacement parts. For example, the cost of replacing the integrated control panel on a popular Italian-made wrapper is about 3500-4000 Euros.
Importantly, the above issues also apply to "economy" machines of Asian origin.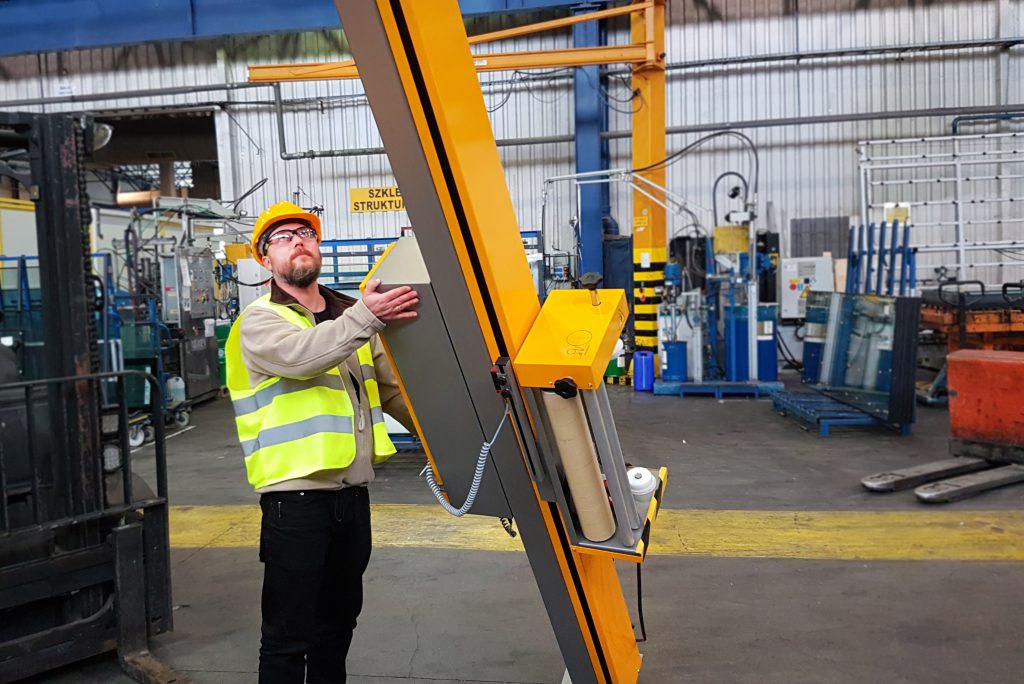 Which pallet wrapper will be most suitable?
Pallet film wrapping machines offer greater economy and convenience than the traditional method of manually wrapping loads with stetch film. It is difficult to know which model of wrapper and which configuration will work best for a given application.
If you have any questions, please call us +48 666 863 985 or contact us using the link below. One of our experienced pallet load securing experts will help you choose the best machine for your packing and shipping needs.
For almost 30 years we have been manufacturing stretch wrapping machines. We provide dedicated solutions for virtually every industry and application. Our machines are designed for wrapping pallets, crates, doors, windows, transport trolleys and other products. Each wrapper we manufacture is covered by a full 24 month warranty. Thanks to our extensive sales and service network, you can count on our support both in the selection of the right wrapping machine and full after-sales care.
Kamil Woliński